Beside technical innovations, IFAC World Congresses also stand for socializing with colleagues and friends at exceptional places. While the cyberspace can be regarded as such an exceptional place, maintaining the social character for a virtual conference is not straightforward. Hence, we are proud that many of you participated in the following social events.
Photomosaic Souvenir
We created the souvenir below of the IFAC World Congress 2020 by combining pictures from more than 220 attendees in one photomosaic showing the Brandenburg Gate in Berlin. Among the beautiful and creative pictures, you'll find 29 with beer coasters advertising the IFAC World Congress in Berlin. These beer coasters were handed out during the previous World Congress in Toulouse and they promised a free beer. The social events committee selected six exceptional pictures with and without beer coasters. All contributors of the selected pictures receive a poster print of the photomosaic. In addition, we will send some typical German beer to the contributors of the three pictures with beer coaster.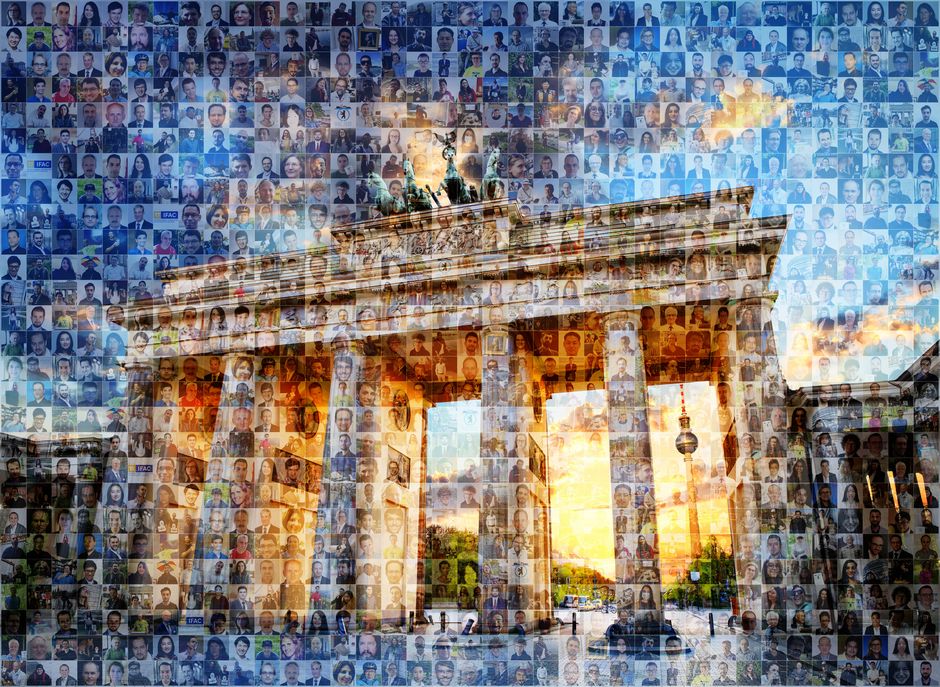 ---
First perfomances of the IFAC Control Orchestra
The IFAC World Congress 2020 featured two performances of the first IFAC Control Orchestra! Originally, the idea was to present a live performance with musicians only from our community on site in Berlin. As the conference now took place virtually, this idea has been shifted to a remote fashion. More precisely, more than 25 contributing musicians played and recorded their parts separately, and all musical contributions have been combined into two masterpieces that were presented at the virtual opening and closing ceremony of the congress. You can watch these performances again below.
---
Control-and-the-Universe Quiz
Inspired by pub quizzes and game shows like "Who wants to be a Millionaire?" and "Family Feud", we conducted an entertaining online Control-and-the-Universe Quiz with a mix of control-related and general questions. The quiz was held on Monday, July 13. In order to stimulate social interactions, interested quizzers were randomly assigned to teams with 3 to 5 players. Participants had to deal with questions like the favorite theorem of the IFAC technical committee chairs or the solar system's tallest mountain (without using a search engine). After almost three hours of intensive online quizzing, the Control-and-the-Universe Quiz ended with happy faces: More than 130 quizzers from around the world had competed in around 40 teams!
The final ranks and the points of all teams are shown in table below. Congratulations to all participants and, in particular, to the three winning teams with the following members:
The_Team_of_Three: Devyani Varshney (IIT Bombay), Hanane Katir (Univ. Hassan II of Casablanca), Frank A. (Univ. of S. ;-))
DelToHu: Hassan HossinNia (TU Delft), Hideaki Ishii (Tokyo Tech), Julio J. C. Mancera (Univ. of Huelva)
Control freaks: Thierry Guerra (Univ. Polytechnique Hauts-de-France), Suad Krilasevic (TU Delft), Leif Erik (NTNU), Jens Müller, Yannik Löhr, Oliver Berner (all Ruhr-Univ. Bochum)
| | | |
| --- | --- | --- |
| Rank | Team | Points |
| 1 | The_Team_of_Three | 83 |
| 2 | DelToHu | 80 |
| 3 | Control freaks | 79 |
| 4 | ControlX | 77 |
| 4 | Dania Magna | 77 |
| 4 | Team no. 10 | 77 |
| 4 | Team 18 | 77 |
| 8 | Team Brain | 76 |
| 8 | JAVS | 76 |
| 10 | HussaM | 75 |
| 10 | The Kalman Filters | 75 |
| 12 | The Pharaohs | 74 |
| 13 | team40 | 73 |
| 14 | Ali and the Gang | 70 |
| 15 | Who cares | 69 |
| 15 | P2L2 | 69 |
| 15 | DEPT | 69 |
| 15 | InControl | 69 |
| 19 | Cool MPC folks | 68 |
| 19 | Team30 | 68 |
| | | |
| --- | --- | --- |
| Rank | Team | Points |
| 19 | Luis and the Germans | 68 |
| 22 | Covid Strangers | 67 |
| 22 | The Predictors | 67 |
| 24 | The control avengers | 63 |
| 25 | GENIGR | 61 |
| 25 | Group37 | 61 |
| 27 | WonderfulGroup | 59 |
| 27 | control_from_all_over_the_world | 59 |
| 29 | 3D-PID Controller | 58 |
| 30 | MoZaf | 56 |
| 31 | C G T | 55 |
| 32 | Matthias' guys | 51 |
| 33 | 4Unicorns | 49 |
| 34 | ML Ambassadors | 45 |
| 34 | 404 members not found | 45 |
| 34 | EAN | 45 |
| 37 | IFAC-2GirlsGroup | 44 |
| 38 | South Japan | 43 |
| 39 | The Mics | 42 |
---
The IFAC Control Orchestra
The 21st IFAC World Congress featured the first performance ever by the IFAC Control Orchestra. The Grand Opening Ceremony included a performance of "For a lifetime", based on "Ein Leben lang" by the Swiss group Fäaschtbänkler. Moreover, the Closing Ceremony featured a performance of "Smoke on the water", based on the original song by Deep Purple. Both songs were conducted by Jochen M. Rieber. We thank the following musicians for their performance:
| | |
| --- | --- |
| Simon Bachler | bass clarinet |
| Maria Domenica Di Benedetto | piano |
| Julian Berberich | guitar |
| Franco Blanchini | violin |
| Patrizio Colaneri | flute |
| Ian Craig | cello |
| Darius Djafari-Rouhani | violin |
| Arthur Scolari Fagundes | guitar |
| Thomas Gellrich | cello |
| Nykolay Gerashchenko | clarinet |
| Giuseppe Gillini | guitar, bass guitar |
| Michael Hertneck | clarinet |
| Anne Koch | piano |
| Paul Kotyczka | violin |
| Steffen Leonhardt | percussion |
| Masahiro Mae | double bass |
| Manuel Alberto Martínez Arenas | alto sax |
| Miguel Mauricio Iglesias | cello |
| Mirko Mazzoleni | guitar, tenor sax |
| Matthias A. Müller | trumpet |
| Simon Muntwiler | tenor sax |
| Martin Pfeifer | bass guitar |
| Jochen M. Rieber | clarinet |
| Arash Shahbakhsh | tanbour |
| Alia Strandt | clarinet |
| Julia Wagner | alto sax |
| Julian Wanner | violin |
Arranger, audio engineering: Jochen M. Rieber
Organization, video engineering: Julian Berberich